"Spring Brings Baseball, and Its Bards, to Life"
RICK KOGAN OF THE CHICAGO TRIBUNE GIVES BARDBALL A SHOUT-OUT
April 12, 2015:  Examining the age-old connection between writing and baseball, Friend of Bardball and veteran Windy City newsman Rick Kogan talked to us about whether we've ever been surprised at the quantity or quality of our submissions.  You can read our response on this link right cheer.
 * * * * * *
BARDBALL FEATURED IN THE CHICAGO TRIBUNE "PRINTERS ROW" BOOK SECTION
April 1, 2012:  Because we are very high-minded and avoid glamorizing vulgar notions through poetry, we have been included in the august "Printers Row" section of the Chicago Tribune.
Follow this link to read James Finn Garner's article in the Tribune.
Follow this link to watch James Finn Garner interviewed by Jennifer Weigel in front of Wrigley Field.
 * * * * * *
ELLIOTT HARRIS SPORTS AND MORE
Thanks to our friend Elliott Harris for giving Bardball a salute recently in his blog.  For up-to-the-minute news about Chicago sports from a veteran journalist, check out Elliott's website!
* * * * *
FROM THE MAILBAG:
It's not every day that a Pulitzer Prize-winning novelist like Michael Chabon sends us a fan letter, so forgive us if we gush: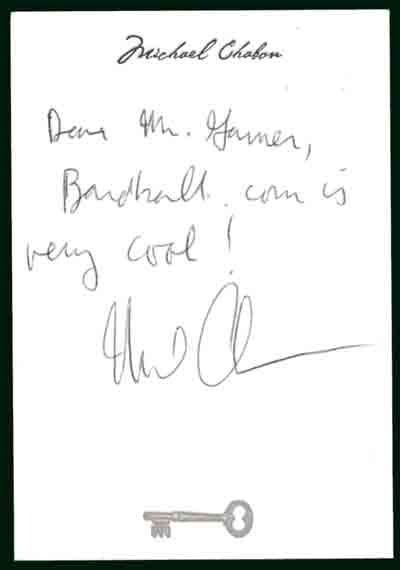 Chabon is the author of books such as The Amazing Adventures of Kavalier and Clay, Wonder Boys and The Yiddish Policemen's Union, as well as the YA novel Summerland, in which baseball, trickster gods, and a Volvo station wagon play a huge part in the end of the world. If you haven't read him yet, you owe it to yourself.
*****
April 8, 2010:  "MEN READ!" AT THE BOOK CELLAR, CHICAGO
On Thursday, April 8, James Finn Garner will host "Men Read!", reading poems from Bardball and introducing the readers for the night:
Jonathan Eig, author of Luckiest Man: The Biography of Lou Gehrig, Opening Day:  The Story of Jackie Robinson's First Season, and the upcoming Get Capone (and frequent Bardball contributor).
Bryan Gruley, author of the northern Michigan hockey mystery Starvation Lake, and its upcoming sequel, The Hanging Tree.
Peter Schilling, author of The End of Baseball, a fictitious account of Bill Veeck's bid to save his St. Louis Browns by fielding a team of Negro League players
7:00 pm at The Book Cellar, 4736 N. Lincoln Avenue, Chicago, IL.  (773) 293-2665
*****
JUNE 6: BARDBALL WRITERS AT PRINTERS ROW LIT FEST IN CHICAGO
On Saturday, June 6, come to a panel discussion on baseball writing at the Printers Row Lit Fest in downtown Chicago (which is one heck of a cool book festival, BTW).  Featured on the panel will be James Finn Garner and Stuart Shea, along with other noted writers including James McArdle, Gary Moore, and Sara Paretsky (Yes, you heard right–THAT Sara Paretsky).  The discussion will be moderated by Donald Evans, editor of the collection Cubbie Blues: 100 Years of Waiting til Next Year, which included all of these writers.
The panel will meet at 1 p.m. in the Multi-Purpose Room of the Harold Washington Library.  Copies of Cubbie Blues will be on hand for sale and autographs.  Come on down for this one-of-a-kind event!!
*****
Web Site for Poets and Players is a Diamond in the Rough
By Angus Lind, New Orleans Times-Picayune, March 23, 2009
"Garner and Shea are two-thirds of the double-play combination that is turning out poetry, limericks, haiku, song lyrics and just plain doggerel about baseball. Completing the combo are all the contributors — fans and would-be bards who can capture the thrill of the game in all the different lyrical formats.  Some of it is good, very good, and some of it is, well . . . bad, very bad.

"Doggerel is not supposed to be good," Garner said. "When it's good, it's a surprise."….."
*****
CREMATING THE CURSE,  Sunday, April 5, 2009
James Finn Garner and other BARDBALL contributors will be joining in this authentic cremation ceremony, intended to eradicate 100 years of curses for the Chicago Cubs.  Items associated with the Cubs' sundry curses (the Billy Goat, the Black Cat, Merkle's Boner, et al.)  will be placed in a casket and then cremated, with the ashes stored in a genyooine Cubs Urn. The ceremony will take place at Michael's Funeral Home, 800 S. Roselle Road, Schaumburg, IL 60193 (847-891-2900).
The ceremony will be led by legendary comic Tom Dreesen, and will have contributions from the various writers who contributed to the anthology Cubbie Blues:  100 Years of Waiting Til Next Year.  Among those writers will be "One Bad Century" host Rick Kaempfer, Cubs historian Brian Bernardoni, author/publican Ric Hess, playwright Mary Beth Hoerner, American Skin novelist Don De Grazia, "Reading Under the Influence" co-founder Julia Borcherts, Cubbie Blues editor Donald G. Evans, superfans Ronnie "Woo Woo" Wickers, Jerry "The Bleacher Preacher" Pritikin and "Radio" Ron Walerowicz, celebrated widow Pat Brickhouse, and many others. Musical acts include folk musician Dennis Graf.
A book signing will follow the ceremony.  A portion of all proceeds, as with all Cubbie Blues sales, goes to Chicago Baseball Cancer Charity.
For info on this event and others, as well as where to get a copy of Cubbie Blues, go to the Can't Miss Press website.

*****
POETRY GRAND SLAM OCTOBER 7 !!
Join us for the first ever Bardball "Poetry Grand Slam" on October 7 at 7 pm. Marc Smith of the indomitable Uptown Poetry Slam is coordinating with us to make this a competition worthy of a pennant race. Two teams, three trips at bat, best long-ball versifiers win! Come to the Green Mill Lounge (4802 N. Broadway in Chicago) and root on the Bardball team!
For more info on the Green Mill and the Uptown Poetry Slam, click here.
UPDATE: NBC's "Weekend Today" show included footage of the Poetry Grand Slam in a segment about alternative entertainment in Chicago on October 21.  The show featured James Finn Garner reading a portion of "The Silver Lining, or At Least the Yankees Lost."
*****
From Ernie Harwell's column
Detroit Free Press, 10/1/07:
A new Web site, www.bardball.com, resurrects baseball poetry. Here are verses, excerpted from an entry by James Finn Garner. He must have written it before the Yankees recovered from losing 29 of their first 50 games to reach the playoffs.

"My wife has up and left me,

Once the object of her lust.

Now she's hitting the clubs with a biker named Dubs,

But at least the Yankees lost.

"Atmosphere been heating up,

Melting the permafrost.

The polar bears lately can't count on their safety

But at least the Yankees lost

"Trekking to a mountain wise man,

I registered my disgust.

"Dear pilgrim,"said he, "what will be, will be.

But at least the Yankees lost."
*****
FROM THE MAILBAG
Ernie Harwell likes us.
ERNIE. HARWELL.
LIKES US !!!!!
*****
QUICK HITS by ELLIOTT HARRIS
CHICAGO SUN-TIMES, June 27, 2007
POETIC JUSTICE: Jones parting is such sweet sorrow
If William Shakespeare were alive today, he would be contributing to www.bardball.com.
OK, maybe not.
Mainly because he was English, and while the English may have a way with the English language, they just might languish when it comes to finding rhyme and reason in the very American game of baseball.
The site is dedicated to "reviving the art of baseball doggerel."
If ever there was a time and town for that, Chicago would seem a good fit.
James Finn Garner and Stuart Shea came up with the site — for better and verse.
Offerings include "Dialogue: Jacque Jones and a Cubs Fan" by Chicago author Shea, written last week. Think of it as a farewell homage:
"Today I make a promise from my soul
That I will try my best in my new role.
I will not swing at sliders aimed at my back foot,
Nor run the bases like I'm wearing gumboots.
Or make a six-hop throw toward the plate
That never gets the runner 'cause it's late.
I hope I can keep this oath."
"You and me both."
*****
BASEBALL, FROM BEST TO VERSE by PATRICK KAMPERT
CHICAGO TRIBUNE, July 1, 2007
Around the last time the Cubs were in the World Series, three of their top players became more famous than they already were for their double-play prowess.
It wasn't because of a steroid scandal or a silly McDonald's commercial, but a poem written about them by New York sportswriter Franklin P. Adams:
These are the saddest of possible words:
"Tinker to Evers to Chance."
Trio of bear cubs, and fleeter than birds,
Tinker and Evers and Chance.
James Finn Garner figured it was time to pick up where "Tinker to Evers to Chance" and "Casey at the Bat" left off.
So the Chicago author, who sold 2.5 million copies in the U.S. of his 1994 book "Politically Correct Bedtime Stories," has started bardball.com, a site dedicated to poems, limericks and haiku about the 2007 baseball season. He's hoping to get baseball beat writers and bloggers across the country to help.
"Baseball is all about loss and failure," he joked. "So what better subject for poetry?"
The site already sports a dozen limericks about Barry Bonds and a Garner poem, "The Saga of Battlin' Mike Barrett," that may bear watching now that the combative Cubs catcher has been traded to the Padres.
Garner's partner on the site is Stu Shea, who has written for Major League Baseball's Web site, MLB.com.
"You could get serious about baseball poetry, or you could just have fun with it," said Garner, who is opting for the latter option. "Ogden Nash had some strange poems about baseball, just easy, flippant stuff."
Of course, Nash didn't face the obstacles Garner did to find phrases that rhyme with "A.J. Pierzynski," an ode to the White Sox catcher that is perhaps his best and goofiest work on the site (See below).
"I think he's a good player and you need a good catcher; that's crucial," Garner said. "And if he gets under your skin, tough luck."
But if it isn't easy being A.J. Pierzynski, as the poem suggests, it's darn near impossible for Garner, a native of Detroit, to get his wife and kids to go with him to a Cubs, Sox or Tigers game.
"My family hates baseball," he said. "They think it's the most boring thing in the world to watch. I'm always looking for a ticket here and there."
Perhaps he has the germ of a new poem there — a lament.